Buying wholesale theater seats creates a huge price advantage for your current theater seating project and for theater patrons. Additionally, when large quantities are to be produced, manufacturers offer more customization options on products. Since production costs decrease as the quantity increases (this rule may not apply to every product), it is quite normal for manufacturers to offer more competitive prices for high-volume projects. Since the theater halls capacity is in the medium-high category, it is much easier to reach competitive prices.
Theater seats are a type of auditorium seats manufactured to offer a comfortable seating experience to the audience on theater stages. These seats, also called theater chairs or theatre chairs, strengthen the bond between the audience and the theater stage.
The ergonomic design of the theater seat is manufactured to ensure the comfort of the audience and to experience the performance on stage in the best way.
What are the advantages of buying wholesale theater seats?
Buying wholesale theater seats has a number of advantages for theater operators. First of all, theater seats for sale are generally offered at much more competitive prices when purchased wholesale. It is also possible to discuss alternatives regarding customized designs or color options by contacting the theater seat manufacturer directly. Because as the number of pieces increases, the cost per unit will decrease and there is an opportunity to make special production to order.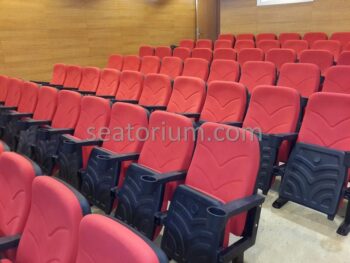 This advantage not only adds a unique ambiance to the theater business, but also provides the opportunity to offer a budget-friendly option. Manufacturers can often offer discounts on bulk orders; This is an advantage resulting from the decrease in production cost per unit.
Accurate calculation of capacity is of great importance in theater seating projects. Providing appropriate seating so that every audience member can enjoy and interact with the stage helps theaters function effectively.
The average width of theater chairs should also be considered in advance so that all audiences have a good sitting experience during the theater stage. Seats that do not offer a large seating area should not be preferred just to increase the capacity of the theater hall.
Always be careful.
However, some mistakes should be avoided in the process of purchasing wholesale theater seats. Especially working with underhanded companies that offer low-quality products just because they are cheaper puts the entire project at risk. Cooperating with reliable and high-quality theater seat manufacturers shows how correct the investment is in the long term.
As Seatorium, we offer you the most suitable alternatives for low-medium-high volume auditorium and theater seating projects with years of manufacturing experience. You can contact us to find out the price for your wholesale theater chair requests and share your project details.