Retractable (Telescopic) Seating – Our Story
Why we decided to incorporate retractable seating solutions into the production system of Seatorium™? Well, the main reason is because seating systems that are retractable combine all the advantages of cost and space. It is possible to fold them up and down and move them quickly and easily. If it does offer the flexibility to our clients, why not manufacture it?
Watch our video for better understanding.
Retractable (Telescopic) Seating is Flexible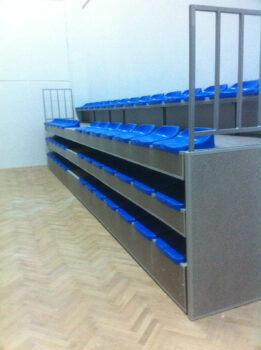 (Telescopic) retractable seating systems helps built – or dismantle – auditoriums in minutes. Automated stands make this process even faster. In addition to this, single row bleachers with one row of seats per platform are the most common and provide the best visibility for an audience.
No problem if your hall has low ceilings! You can choose double row bleachers with two rows of seats per platform. It is possible to raise the height of the second row by several centimetres to improve visibility for spectators. For added flexibility, it is also possible to install folding seats which can fold down into a compartment inside the retracted bleachers.
Appreciating
Many governmental institutions put Seatorium™ model names in their official procurement and tender conditions now. This proudful level that Seatorium has reached is beyond any expression.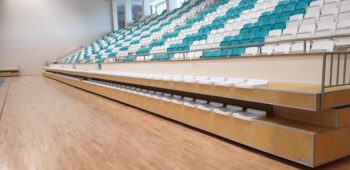 Our brand is particularly known at the highest level among the global companies and international community for excellence in the execution of cinemas, convention centres, theatres, stadiums, sport halls, gymnasium and all auditorium-related premises.
We have been selected! Our clients all over the world have selected us to design and manufacture innovative fixed, mobile and retractable seating solutions for their projects. Thanks for appreciating long years of our efforts.