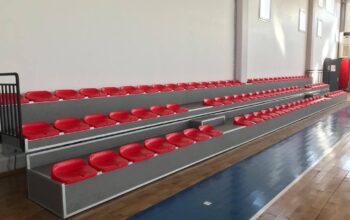 We know that Telescopic Tribune Seating Solution can convert your empty hall into a practical and smart seating space.
Everyone at the due department in Seatorium™ is passionate to bring flexibility to the sports halls, auditorium spaces, school halls, gymnasiums and other auditorium spaces by applying Telescopic Tribune Seating systems.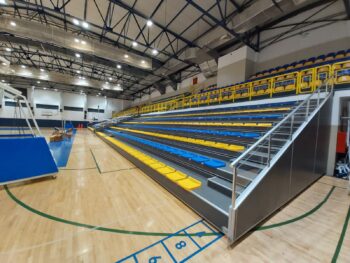 Why telescopic tribune seating systems are so popular?
The automatic machine used in the telescopic tribune system allows the seats to be moved out of sight into the walls by means of a telescopic compaction system.
Retractable seatings designed for the telescopic tribune systems are ideal for multi-purpose halls, sports halls, gymnasiums, school halls, and other auditorium premises. (Fully or partially) fold down chairs are perfect for a whole host of venues as these units can be closed and opened in a matter of minutes.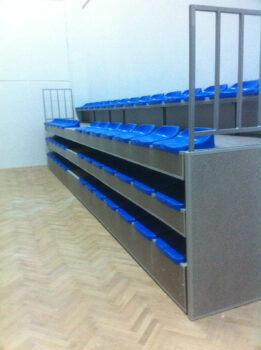 Seatorium™ offers several options for operating the retractable units, which greatly reduces loading issues in a number of facilities.
Our telescopic seating systems ensure you can transform any space into seating for your audience. Fold away auditorium seating is an efficient, space-saving way to provide seating on demand.
Explore our range of telescopic seating and retractable seating systems today and for more information read how our retractable seating systems operate.
Appreciate Each Other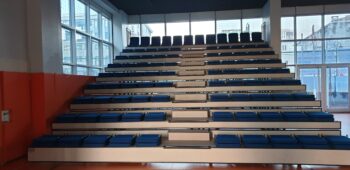 Many governmental institutions put Seatorium™ model names in their official procurement and tender conditions now. This proudful level that Seatorium has reached is beyond any expression.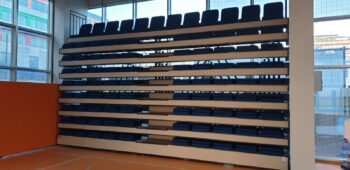 Our brand is particularly known at the highest level among the global companies and
international community for excellence in the execution of cinemas, convention centres, theatres, stadiums, sport halls, gymnasium and all auditorium-related premises.
We have been selected! Our clients all over the world have selected us to design and manufacture innovative fixed, mobile and retractable seating solutions for their projects. Thanks for appreciating long years of our efforts.
Watch our video for better understanding.
Leading Manufacturer & Supplier of Auditorium Seatings & Chairs From Turkey
Seatorium is a company based in Turkey which has been specialized for fixed and highend seats for public areas. Seatorium's mission is to provide the best seating solutions for Multipurpose Spaces, Conference Rooms, Convention Centers, Concert Halls & Auditoriums, Parliement Buildings, Multipurpose Macro-spaces, Sport Stadiums, Theaters, Movie Theaters & Cinemas, Airports & Stations, Universities& Schools, Ferries & Cruise Ships, Hotels & Conventions, Clinics & Hospitals, Religious Centers. Therefore Seatorium has constituted a perfect production and organizational structure to procure well designed top-quality seats. With an experience of supplying Auditorium Chairs & all kinds of Seating Solutions to five continents since 2005, Seatorium is competent to provide exactly what you need in a right delivery time. With its flexible Team and individual and custom production capability, Seatorium is also open for custom requests. At the same time Seatorium project department is ready to find the best solution with best matching seat for your specific field. You're at the right address for high quality theatre chairs, comfortable cinema seatings, durable stadium chairs, high-end fixed chairs with hundreds of variants available.
Seatorium is specialized in manufacturing auditorium seats, auditorium chairs, auditorium seating, auditorium furniture, cinema seats, cinema chairs, cinema seating, cinema furniture, lecture hall seats, lecture hall chairs, lecture hall seating, lecture hall furniture, stadium seats, stadium chairs, stadium seating, stadium furniture, theatre seats, theatre chairs, theatre seating, theatre furniture, movie theatre seats, movie theatre chairs, movie theatre seating, movie theatre furniture, fixed tiering seats, fixed tiering chairs, fixed tiering seating, fixed tiering furniture, removable seats, removable chairs, removable seating, removable furniture, retractable seats, retractable chairs, retractable seating, retractable furniture, movable seats, movable chairs, movable seating, movable furniture, lecture theatre seats, lecture theatre chairs, lecture theatre seating, lecture theatre furniture, arena seats, arena chairs, arena seating, arena furniture, multi purpose seats, multi purpose chairs, multi purpose seating, multi purpose furniture, sport hall seats, sport hall chairs, sport hall seating, sport hall furniture, telescopic seats, telescopic chairs, telescopic seating, telescopic furniture, conference seats, conference chairs, conference seating, conference furniture, congress hall seats, congress hall chairs, congress hall seating, congress hall furniture, convention room seats, convention room chairs, convention room seating, convention room furniture, music hall seats, music hall chairs, music hall seating, music hall furniture, amphitheater seats, amphitheater chairs, amphitheater seating, amphitheater furniture, student seats, student chairs, student seating, student furniture, classroom seats, classroom chairs, classroom seating, classroom furniture, educational seats, educational chairs, educational seating, educational furniture, university seats, university chairs, university seating, university furniture, library seats, library chairs, library seating, library furniture. Contact ıs to get a fast quotation!
Important Notice
2023 Seatorium™ – Public Seating Manufacturer From Turkey
Auditorium & Cinema Factory:
Address: Alaşar Köyü, Yeni Yalova Cd. No:519 Osmangazi / Bursa – TURKEY
Stadium Factory:
Address: 3. Organize Sanayi Bölgesi Celal Doğan Bulvarı No:38 Başpınar / Gaziantep – TURKEY