Purchasing wholesale cinema seats creates great price advantages for cinema operators. Additionally, when large quantities are involved, manufacturers offer more customization options on products. It is quite normal for manufacturers to offer more competitive prices for high-volume projects as production costs decrease as the quantity increases.
What is a cinema seat and what makes it special?
Cinema seats are seats that offer a comfortable seating experience to the audience and increase the prestige of the business with their design. The design of the cinema seat can increase the appreciation of the cinema hall visitors and ensure more frequent visits. Cinema seats remain alone with the audience after the movie starts and accompany the audience until the movie ends. Color options, material quality and design details directly contribute to the concept of the movie theater.
Buying Wholesale Cinema Seats
There are many advantages of buying wholesale cinema chairs for movie theater operators. First of all, since cinema seats for sale are produced according to demand, they are offered at more affordable prices in wholesale purchases. By communicating directly with the theater seat manufacturer, it also becomes easier to agree on customized designs or color options for your movie theater seating project.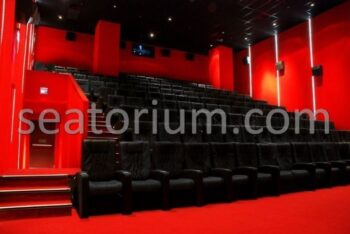 Bulk purchases always make both the manufacturer and the customer happy in terms of cost. Additionally, for wholesale cinema chair orders, manufacturers may offer you discounts as the product production cost per unit will decrease, which will help you save money for your movie theater project.
Additionally, as the quantity you request increases, your special production requests for the products are also taken into consideration by the manufacturers. The reason for this is that it will reduce the additional costs (additional cost per product) that will occur in special productions.
However, we recommend that you pay attention to some points during the wholesale cinema seat purchase process. Working with underhanded companies should be avoided just because they are cheaper. To provide a quality cinema seating experience for cinema audiences, cinema seat manufacturers that offer reliable and quality products should be preferred. As Seatorium, we offer you the most suitable alternatives for low-medium-high volume projects with years of manufacturing experience. You can contact us to find out the price for your wholesale cinema chair requests and share your project details.