There are several important factors to consider when looking for stadium seats for sale. For stadium seating project owners, the design and durability of the stadium seats are important not only for the spectators, but also for the overall look of the stadium. High quantity demands can reduce the cost per unit of stadium chairs, allowing you to save money on the budget of your current project.
Stadium seating is the seating arrangement used in indoor or outdoor stadiums, usually used for sporting events, performing arts such as outdoor concerts, and large-scale events. Stadium seating allows thousands of people to watch a sporting event or concert at the same time.
Finding Best Stadium Seats for Sale
Stadiums are venues with high seating capacity compared to other auditoriums. For this reason, stadium seat prices are offered at more competitive prices than others. The biggest reason for this is the low production cost per unit as the quantities are high.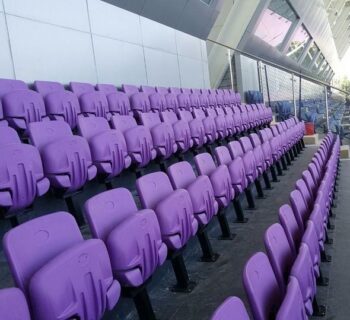 Stadium chairs are usually made of plastic. Since plastic is also the most affordable raw material, even in high-volume stadium seating projects, the seats require less budget than the entire project. Factors affecting the stadium seat price are raw material cost and labor cost. A stadium seat undergoes many durability and quality tests during the production phase. In addition, adjusting plastic molding machines and making drawings also affect stadium seat costs.
The dimensions of stadium seats and seating arrangements play a critical role in the capacity of the stadium. In order to achieve higher capacity, stadium chairs that do not have very wide seats are generally preferred.
Stadium Seats Prices
Stadium seat prices vary according to the size of the project and the features of the product requested. The price of one stadium seat can vary between 35$ and 120$. Of course, stadium chairs with different quality and designs can be offered at different prices.
Making only price-oriented choices when looking for stadium seats for sale can lead to long-term dissatisfaction. When looking for commercial stadium seats, choosing a suitable manufacturer is critical for quality and longevity. Working with under-the-radar companies often leads to poor quality and durability problems.
As Seatorium, we offer the best solutions for stadium seating projects with our many years of stadium seat manufacturing experience. Because we know that focusing on product quality beyond price plays a critical role in increasing the comfort of users and the prestige of the stadium.