Retractable seating (also known as retractable bleachers) are seating systems that can be opened and closed according to the
need. Retractable Seating makes a hall or venue suitable for different events. Retractable seating systems are frequently used in venues such as sports halls, multi-purpose halls, conference centers and theaters.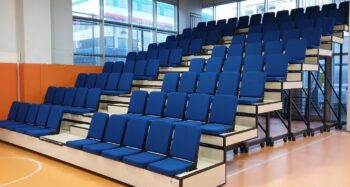 Retractable seating provides more flexibility in the halls used, as well as being useful for freeing up more space when not in use.
Retractable Chair
Retractable chairs or retractable seats are the general name of the seats used in these sittings. Retractable chairs are not too high to avoid any jamming when the mechanism is opened or closed. Stadium chairs are more suitable for this retractable seating arrangement than auditorium seating. In addition, if the retractable stage planning is done well, comfort can be increased by providing back resting area.
Retractable seats are usually made of plastic material. Plastic retractable chairs are fixed to the mechanism with screws. Although plastic is often preferred for its easy cleanability and affordable prices, upholstered seats offer more comfort in terms of providing sufficient comfort. Upholstered seats with folding backs are also frequently preferred in retractable theater systems.
Telescopic Bleachers
Telescopic bleachers consist of a series of foldable or fixed seats. These bleachers can move on rails or wheels and can thus be opened and closed according to the use of the venue. Thanks to the telescopic bleachers, the sports hall can open these bleachers during a basketball game and the spectators can watch the game. If another event is organized in the same hall after the basketball game, the bleachers can be folded to create more space.
Watch our video for better understanding.