Buying wholesale church seats has many advantages for the church congregation. First of all, church seats for sale are usually offered at more affordable prices when purchased wholesale (this is because the cost per unit is lower).
By contacting the church chair manufacturer directly, designs or color options to suit the specific needs of the church can be agreed upon. Such an agreement also brings significant savings to the church's budget. Additionally, manufacturers can often offer discounts on wholesale church chair orders; This is due to the low production cost per unit.
What is Church Seat?
Church seat not only accommodate those watching church services. It is also a special place where a community comes together, prays together, shares and supports each other. For this reason, we carefully select the seats to make the church experience deeper and more meaningful. In addition to color variations, material quality and design details stand out among the factors that affect the church atmosphere.
Buying Wholesale Church Chairs
In addition, as in every auditorium seating project, there are some points to consider before purchasing church seating projects.In bulk purchases, all details about the project must be discussed in advance, as changes cannot be made to the products after the production phase is completed.
Some of the issues to consider when looking for church chairs for sale are the harmony of the product design with the space and the durability of the product. Every project is special and valuable. Even if a non-durable product looks very nice, there is no benefit in the long run.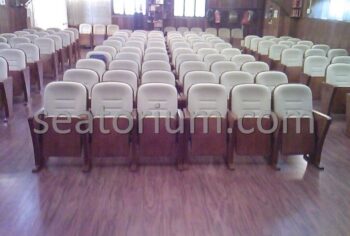 The dimensions of the church chairs are the most important detail to make sure that the church seating dimensions and layout are correct. Because worship chairs and auditorium seat manufacturers manufacture according to the measurements you provide them. Make sure you calculate the correct church seating arrangement from the dimensions of the seat you need to avoid any problems.
However, there are some important points to consider when purchasing wholesale church seats. You should avoid companies that offer low-quality products just because they are cheaper. Reliable and quality church seat manufacturers should be preferred.
As Seatorium, we offer the best solutions for worship seating and church seating with years of auditorium seat manufacturing experience. Because we know that focusing on product quality, beyond price, plays a critical role in enhancing congregational comfort and the church experience.