Buying wholesale auditorium seats creates great price advantages for projects and businesses. It is possible for manufacturers to offer more competitive prices for high volume projects due to decreasing production costs as the quantity increases. As Seatorium, the leading auditorium seat manufacturer, we will provide information about commercial auditorium seats and wholesale purchases in this article.
Auditorium seats are the general name for seats used in high and medium capacity venues. Auditorium seats are used in many venues such as concerts, theater plays, conferences, cinema screenings and sports events to offer the audience a comfortable and orderly seating arrangement. In addition, with different design options, these chairs add an aesthetic appearance to the space with their special designs and various color options.
Wholesale Auditorium Seats
Buying wholesale auditorium seats has many advantages for the business. First of all, wholesale purchasing provides a cost advantage to businesses. Auditorium seats for sale are often offered at more affordable prices when purchased wholesale. Additionally, buying wholesale directly from the manufacturer offers a friendly option for your project and your business. By directly contacting the auditorium seat manufacturer, an agreement can be reached on customized designs or color options. This can provide a customized solution tailored to business-specific needs.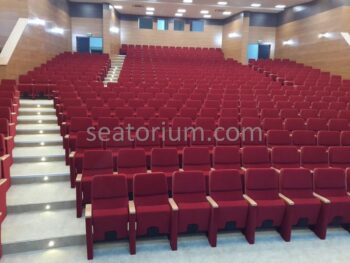 The ability of manufacturers to offer discounts on wholesale auditorium seat orders is an additional advantage for businesses. Purchases made in large quantities provide cost advantages to manufacturers (raw materials, labor, etc.), which allows sales at discounted prices. Comparing prices between auditorium seats for sale and making a suitable deal can contribute to the budgets of businesses.
However, some mistakes should be avoided in the process of purchasing commercial auditorium seats. First of all, hasty decisions should be avoided and offers from different manufacturers should be carefully studied. You should not work with companies that engage in under-the-counter production just because they are more affordable. When researching auditorium seat prices, attention should be paid to their compliance with quality standards and your project. You should also consider factors such as order delivery time and shipping costs when planning your purchase.
When purchasing wholesale and commercial auditorium seats, evaluating options that fit the needs of businesses and doing careful research can provide satisfaction and savings in the long run. Seatorium takes care to offer the most competitive prices for project owners and businesses. For this reason, when requesting a price, you must also share the quantity of the product you request.