The movie theater seat price you will encounter when searching for movie theater seats for sale include these costs. The cost of movie theater seats consists of a combination of many different cost items. Product raw material cost, labor and machine cost and design cost are the main factors that determine the cost of movie seats.
What are Movie theater seats?
Movie theater seats are a type of auditorium seats produced for movie lovers to meet and have a pleasant sitting experience during the movie in the cinema hall. Movie theatre seats with cup holders are generally preferred. They are also distinguished from other auditorium seats by the maximum comfort they offer.
Movie Theater Seat Models
What Does Movie theater seats Costs Include?
Costs of movie seats are one of the issues that people looking for movie theater seats for sale wonder about before purchasing. The fact that two very similar movie theater seat models are sold with different price tags can be explained by cost and brand value.
Of course, costs vary from project to project and may also vary from model to model. The movie theater chair price of a model produced 100 times a month and a model produced 10,000 times a month will not be the same.
There are many costs involved in the production of movie theater chairs, from raw material purchasing to final quality checks. Although many additional costs can be added to the list, we can summarize the main cost items as follows.
Raw Material Cost & Importance of High Quantity
Raw material cost is one of the main costs in movie theater seat production. Purchasing the plastic, metal and wood, as well as fabric and sponges to be used in production, constitutes the first stage of the costs.
The most important reason why the cost per unit is low in high volume projects is that raw material costs are also low in bulk purchases. In addition, since the cost per unit is lower in mass production products, more competitive movie theatre price are offered.
Everyone wants their movie theater seating project to be unique. However, the model you want to be completely personalized and produced specifically for your project may exceed your budget. For this reason, choosing between mass production models will save you a lot of money.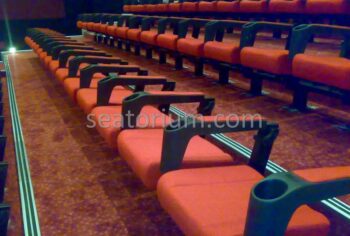 As Seatorium, we make project-based pricing to offer our customers the most competitive movie theater seat price. We constantly update our production planning and offer much more competitive prices for high volume projects.
Labor & Machinery Cost
Labor cost is one of the important factors affecting movie theater seat costs. Although it may sound easy to transform purchased plastic raw materials into certain designs and shapes using molding machines and robots, it is a very laborious process.
Some of these costs include sewing and embroidery of movie seats, interior and exterior assembly, and quality control.
Design Cost
Before mass production of a movie theater seat begins, it goes through many different tests. Since it is intended to be used for years, it is subjected to durability tests.
The production line is constantly updated for a more efficient process and different molds are designed and tested for the seat in question. All costs from the design to mass production of a seat planned to be produced are design costs.
In this process, a budget of tens of thousands or even hundreds of thousands of dollars is allocated only to the design of the movie theater chair, determination of its molds and quality tests.
Getting the Best Price When Buying Movie theater seats
Being careful when purchasing movie theater seats creates many advantages for movie theater businesses or seating project owners. One should not work with unlicensed and unproven movie theater seat manufacturers just because they offer more affordable alternatives.
Here are some methods to get the best price when purchasing movie theater chairs. First, tell the movie theater seat manufacturer about the different seating projects you have worked on. Tell them you'll have requests for other seating projects as well, in addition to your current purchase.
As Seatorium, we care about long-term collaborations. For this reason, approximately 66% of our production line consists of the demands of our regular customers.
To get the best price for movie theatre seats, be sure to specify the number of pieces when requesting a price. If your seating project doesn't require much customization, opt for mass-produced movie theater seatings. This choice will give you a price advantage of at least 10%. Of course, this rate may vary from model to model.
Be sure that when you follow these two simple rules, you will have the movie theatre seats you need for your auditorium and movie theater seating projects at much more competitive prices. We prepared this article about movie theater seat costs to inform our customers and help you make a better product choice. You can contact us for more information.
As leading movie theater and movie theater seats manufacturer Seatorium, we offer the best solutions for auditorium seating projects with our many years of auditorium seat manufacturing experience.