What is a Lecture Theatre?
A "lecture theatre" or "lecture hall," is a venue usually used for large capacity educational or lecture activities. Lecture theaters are places where students or audiences gather to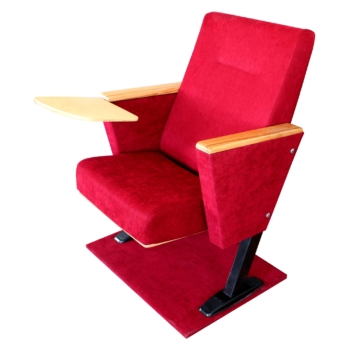 listen to lectures or watch presentations given by a teacher, professor or speaker. Lecture theaters are usually located in educational or meeting venues such as universities, colleges, schools, conference centers.
Comfort in Lecture Theatre seating (also called lecture hall seating) is critical. Students need to focus on the teacher, professor or speaker during the lecture or presentation. For this reason, lecture hall chairs should provide a comfortable seating experience.
Lecture Hall Seating
Lecture hall seating is the totality of the seating, lecture chairs, and acoustics that make up the entire lecture or meeting hall. Lecture hall seating should have both a dense row arrangement to achieve high capacity and a row arrangement that is spacious enough not to detract from the seating experience.
Shared armrests are often preferred in lecture room or lecture hall seating. If there is a table in front of the chairs, models without armrests should be preferred both to save costs and to increase seating capacity. In addition, safe exit routes should be planned when arranging lecture hall seating.
Lecture Hall Chairs
With nearly 20 years of production experience, we manufacture lecture hall chairs for lecture theaters. In addition to ergonomic design and high comfort, we are at your side for all your university, college and conference hall projects with our lecture hall chairs with long life-span.As Seatorium, we offer all the solutions you may need for your lecture theatre projects with our plastic, wooden and armrest lecture hall seats models.
Lecture Theatre Seating Models